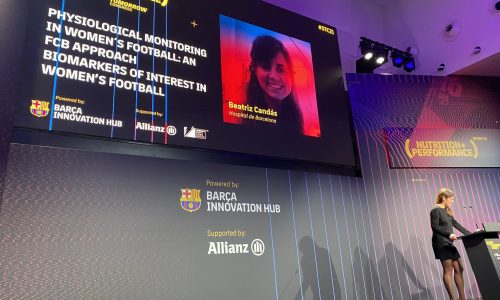 The Barça Innovation Hub (BIHUB) was created four years ago by the FC Barcelona to develop technological advances applied to sport and improve performance at the highest level. This large Barça Laboratory aims to exploit the synergy between sport and technology in order to reach the levels of demand required by the club. To work at this high level, it is necessary to collaborate and work with universities, research centres, start-ups, entrepreneurs, etc.
To promote this synergy, the BIHUB brings together the world of sport every year to debate, explore and reveal key trends and strategies for the future by organising the Sport Tomorrow Congress (STC21), which took place from 8 to 12 November.
This year, within the framework of the STC21, Dr. Beatriz Candas, head of the biochemistry laboratory service of the Hospital de Barcelona, presented the results of the metabolomic study developed together with the Biosfer Teslab team with the aim of incorporating the use of new biomarkers that allow us to evaluate the physical condition to improve performance and prevent future lesions of elite athletes, bringing metabolomics to the forefront of elite sport.
The results presented at the congress showed how NMR metabolomics allows advanced lipoprotein profiling that describes lipid transport associated with cardiovascular disease risk in players more deeply than LDL cholesterol; and particularly relevant is the profiling of glycoprotein patterns associated with systemic inflammation that are not identified with other classical laboratory techniques.